A psd layered vector based brand identity mock-up to present your identity and logo design.
When we released our last corporate identity mock-up, we didn't expect if would get this much reputation and this huge number of downloads. It seems that a lot of graphic designers look for some mock-ups to present their designs to clients. Sometimes, when your show your first sketches to the clients it is the time where your client decide whether to give you the project or not. Forthat, this first impression of the work is highly important.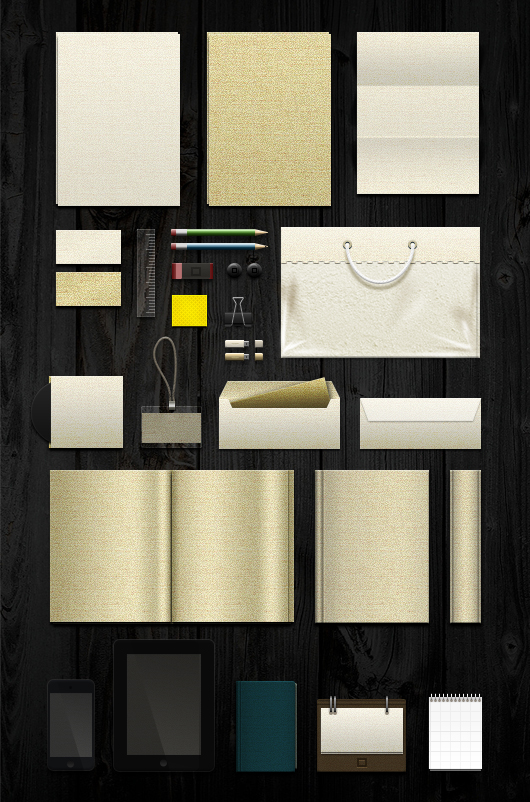 Our new brand identity consist of the following items : Letterheads ; front and back, a folded letter head, Business card, Identity card, transparent ruler, sticky notes, eraser, two pencils, <a href="http://www.blugraphic.com/2013/05/16/2-paper-clips-psd/">paper clip</a>, flash usb, cd cover, an open and a closed envelope. The template contains as well an open and closed book. It also contains a dark ipad, iphone, a small agenda, a calendar and a notebook.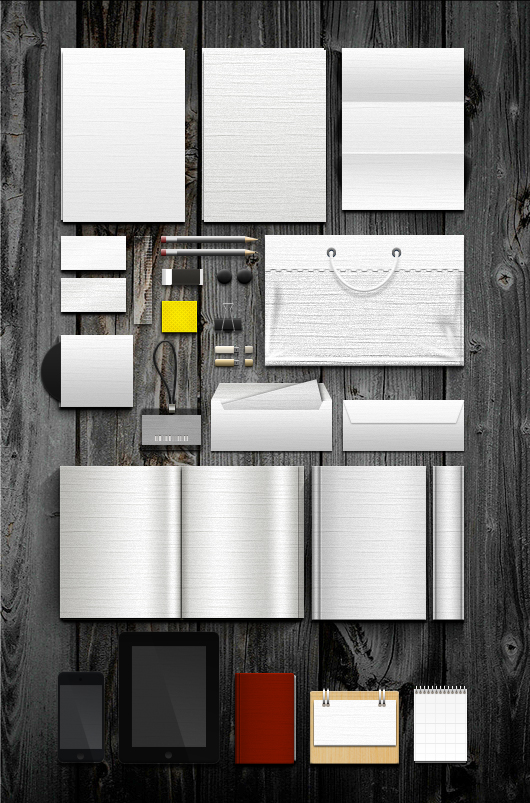 The whole design is isolated on a black wooden background. The items appear best at screen resolution which is 72 dpi as displayed in the thumb image. However, it is possible to re-size to higher resolutions because all the items are shape layers. On higher resolutions, you might notice some loss of details because this particulate psd template was made mainly for screen presentation rather than print. Skilled photohsop designers can however make the necessary editing if they wanted to print with higher dpi like 300+.
A dummy square logo was used in the template and this can be easily replaced by your logo. This goes also for the slogan and other text.
Everything is 100% editable in terms of colors, patterns and shapes.