A simple psd free paper clip used to attach couple of papers to each other.
This free graphic was designed with photoshop with a combination of vector shapes and layer styles. Shadows where also added where neccessary to make a realistic lighting effect. Patterns and textures where built within the layer styles not on seperate layers. This makes editing much easier.
This psd clip in its two presented forms can be used anywhere in your projects whether graphic or web design projects. The open source photoshop file allows your to export the graphic to jpg, png, gif, eps and other file formats. For example you can export to png for web design html & css use.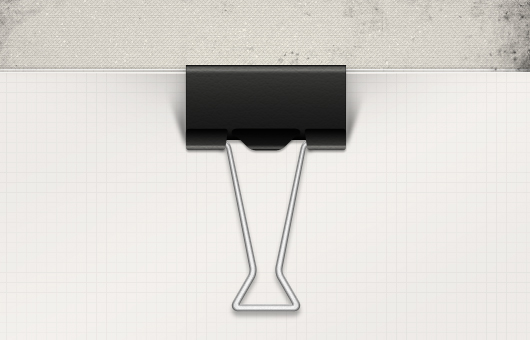 Some Ideas for using this Clip ; you might clip a banner with on your website. You can clip a note to your users or use it in some corporate identity presentation mockups.
This clip is black, with some gradients to create the corners and the shapes. It has a silver chrome metal that push on the paper to bind them together and prevent any slip. The papers used have a grid texture and the background is a grunge style one.