3 App Store Buttons ; App Store ,  Google Play & Android. All Pixel perfect photoshop files free to download.
Today everybody is moving more from their computers to their phones. Light activities such as surfing the internet, checking your email, reading the news are all being done an our phone rather our computers. This is simply because our phone is always with us unlike our computer. Also the spread of 3G and wifi made our phone always connected to the internet.
For that, we will start posting more psd freebies that are related to phone applications. App designers and developers will can now find some of their app design needs at blugraphic.
Whenever you need to download some app on your application, you should find that download button the will help you do so. For example, if you have a website and you want your users to download your application on their phone, you will simply benefit of our set of app buttons as a like to your downloadable application.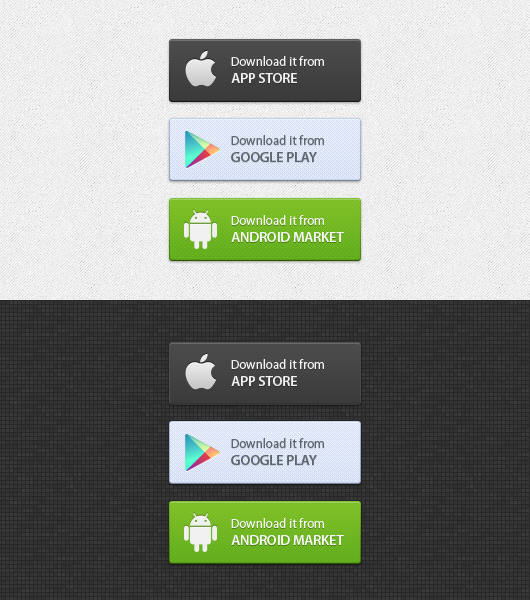 We have three download buttons in the free psd file; the first is the store button which is black in color and have the famous icon on it. The second is the google play button that have a light blue theme and also have the google play logo engraved on it. The third is the green one, which is the android button that contains the android logo. We provided the buttons on both a light white background and on a dark background. Enjoy 🙂