Our free psd file for today is an audio player, a minimalist one that is fully editable, layered and organized.
Our audio player is a clean modern and elegant one, it is designed for light backgrounds which is the case of 90% of today's websites. The makes it easy for web designers to integrate this into their web design. Within this free psd audio player, 4 clickable areas appear, the play button, the pause button, the audio increase or decrease button and the actual play area.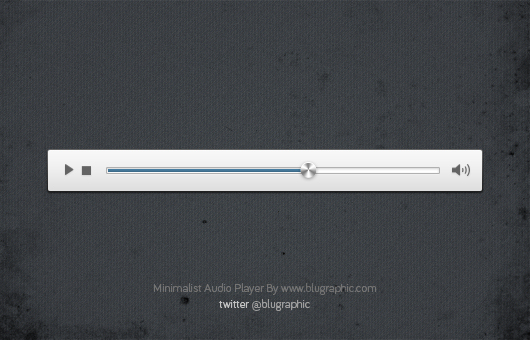 All parts of the design are separate.. You can use this freebies as it is or you can edit it either to make it more complex or to change colors or such stuff. You can add for example select able drop-down to navigate between the audio files. This dropdown can appear right under the main audio player.. I might add this in future posts on blugraphic so stay tuned 🙂 & enjoy the current psd for now.. !