Our free graphic for today is a pack of 10 psd engraved badges for designers.
Badges are very popular elements in modern web. You have probably seen how many of these retro and vintage badges are being sold on selling graphics websites and the number of sales each set of badges have. Taking in consideration their popularity, i decided to make another set of absolutely free badges for my loyal blugraphic fans.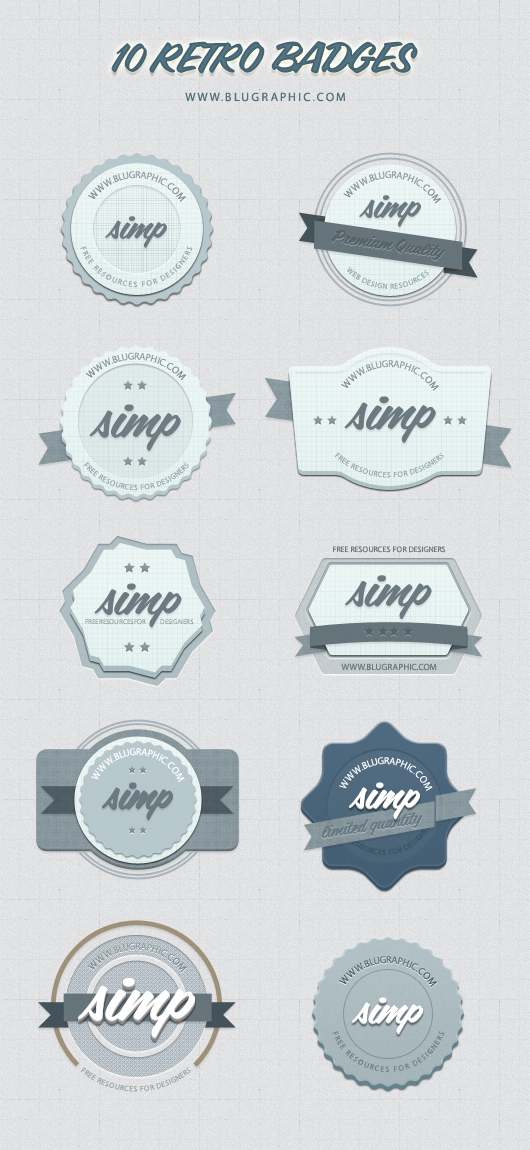 If you are thinking of what to use our badges for i will give you an idea about the unlimited choices for each badge use. Badges are useful for promotional and marketing elements; you can engrave a badge on items on sale & for special offers. Badges are also useful to grab attention for discounts. Badges can make be used as logos for your company "Badge Logo". This not all, and i've seen people using badges for in many other ideas, so this is up to your creativity ! With some modification, you can create things nobody expect with this free 10 vintage badges set !
Our ten badges have a blue theme color, some of them are a little flat & others have a bold 3d effect. You can call them as engraved badges ! I choosed a random word to display in the middle of each badge, this is editable according to your needs. The psd file is shape and vectors based which gives you maximum editing choices.
Every badge shapes and styles are grouped and organized together to make thing easier for you. Enjoy 🙂
Download Premium Version