A multipurpose website template called dynamic, free to download in fully layered psd format.
This template is special because it can be used for many purposes, although it was mainly directed toward portfolio agencies and individuales, it can however work as a template website for companies, products & more. It is made of 5 parts going from the top to the down of the page; the header which contains the logo & the main menu of the website, part 2 contains a full width slideshow, part free contains latest work done by the agency in the form of squares that contain little thumbs of the work, & when roll over the thumb a "view details" link appear in appealing yellow color. Part 4 contains latest articles from the blog or can be names as latest news of the company. Part 5 contains the footer that consist of a little sitemap for the template with all the links and 3 social media buttons which are facebook, twitter & rss.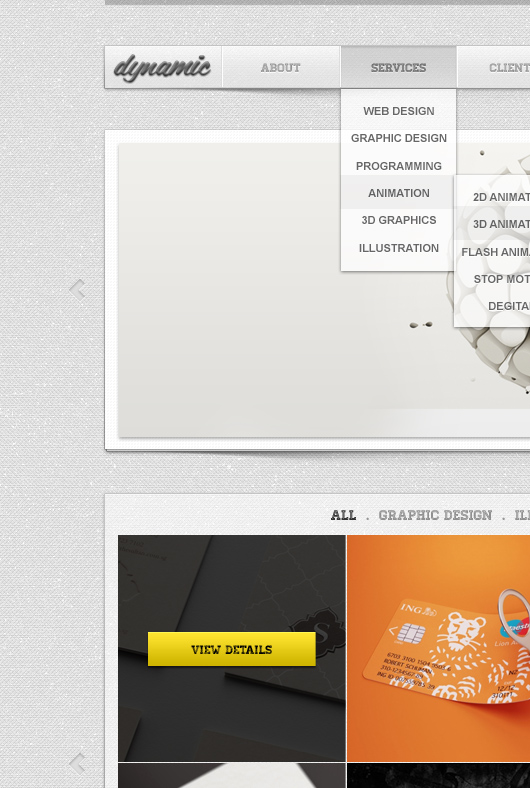 The website template was build around a 3 column grid, although the latest portfolio section contains 4 column images as a break for the rule. Therefore, you can either go with a 3 column layout or a 4 column layout.
The portfolio section in the homepage contains a filter text buttons where you can filter you work by specified categories. There is also arrows on both sides of each part where you can navigate the whole full width slideshow, portfolio & blog news. Thats why i decided to call the template dynamic, because all section at the homepage move.
You can develop this template using wordpress, joomla, or any other platform like php, asp, etc…
The Psd file is fully layered while all shapes are vector based which gives you maximum flexibility in the manipulate of this we template. Enjoy
Note : Images used in the design were picked randomly from the internet, they are all the copyright of their respective owners !