Our freebie for today is an amazing action that will convert your text to grass.
It is made of a collection of patterns mixed with a grass brush and enhanced with layer effects and styles. The good news is that you don't have to do anything except write your text, then with a single click, you will get this complex pretty grass !
More than that, you can even play with layers and customize the look further even after running the action. The action will make the grass effect but the all the layers and styles will be separated for you to make any changes. You can enhance the colors, play with the contrast, increase the shadow strength or decrease it..
With the text template, you will be able to create posters, book covers, advertisements and much more…
Just perfect for concepts like nature, friendly environment, echo friendly, health, etc…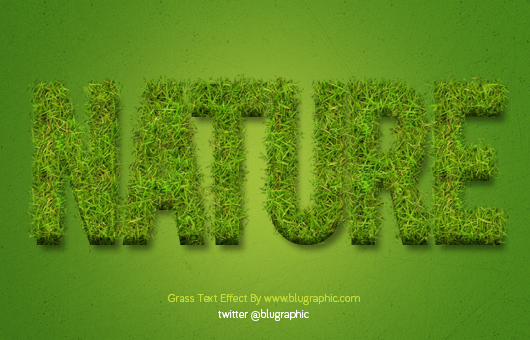 How to use it ?
1- Download the zipped folder and extract its content.
2. You will find two files, an Atn action file & a brush file; install both files to photoshop.
3. Once you have the files installed, create a blank layer, write your text on it and name it "THIS IS ME".
4. Got to actions, locate the grass folder, click on it & click play. Thats it !
ENJOY 🙂